Children commercial plastic indoor playground equipment parts, Kids Soft Play Games Naughty Castle
Product Description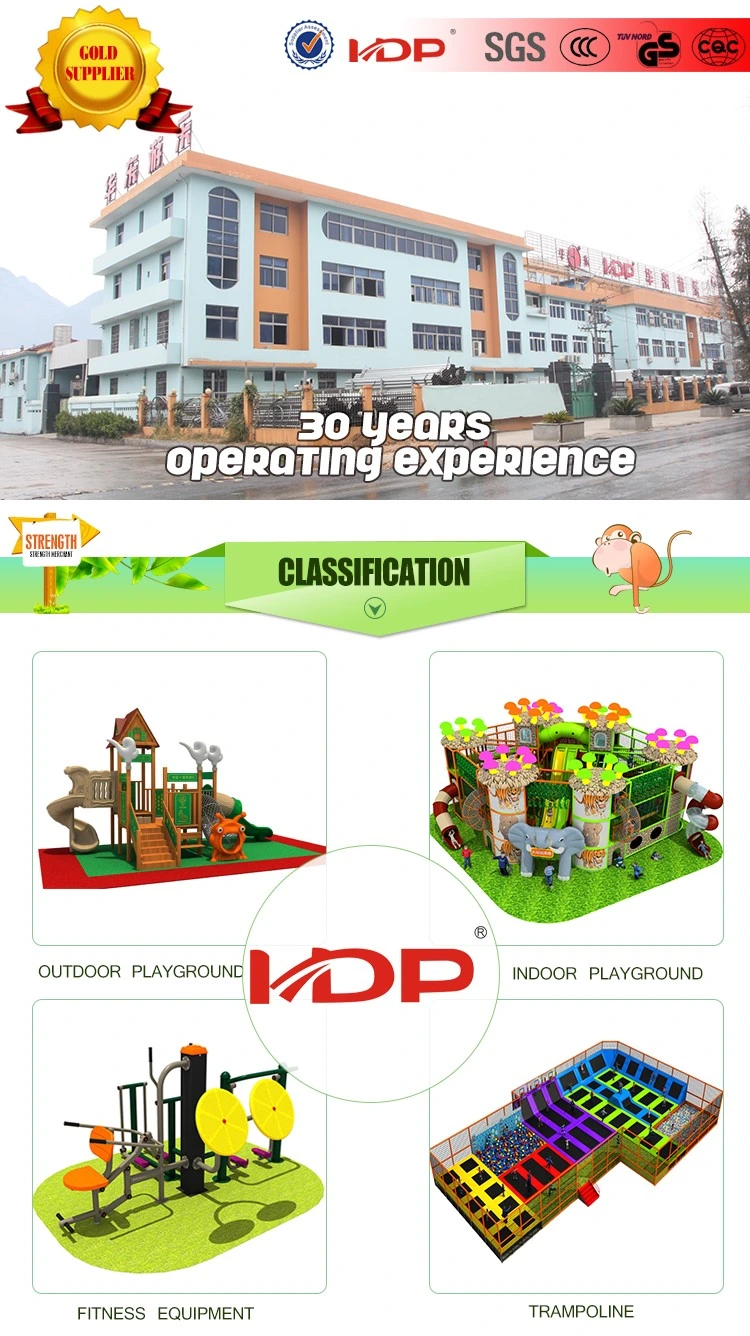 Indoor Playground Equipment Picture Show: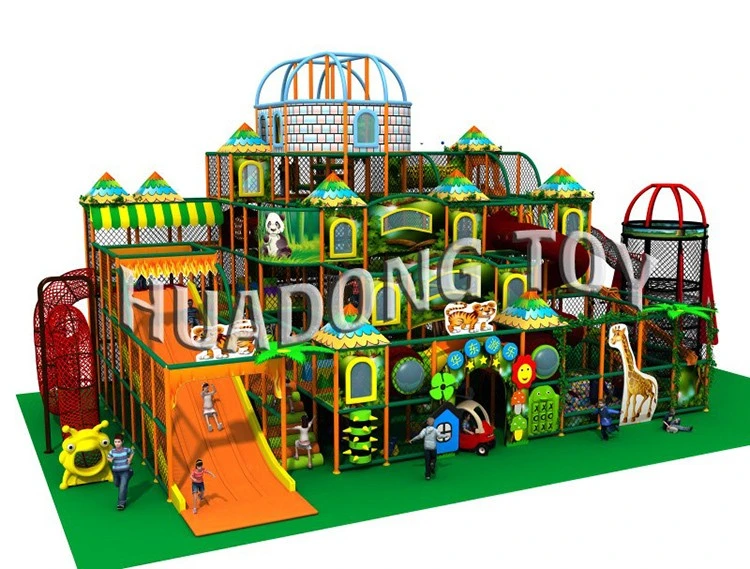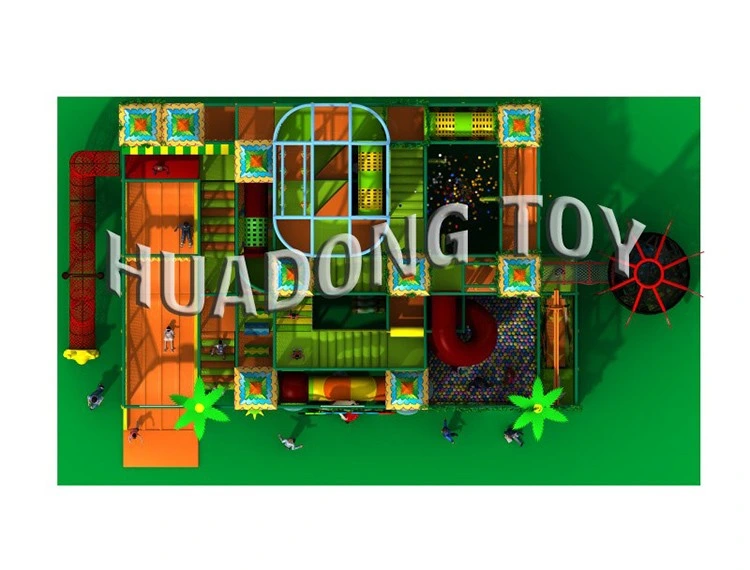 Our Company:
Established in 1987, HUADONG has been engaged in this industry for 30 years. We have been trying our best to supply the world's children with better and the most safe entertainment equipments including indoor trampoline park,outdoor playground, indoor playground, fitness equipment and other related educational toys.

Materials Description:
>>Plastic Elements
Plastic parts of our products are manufactured by rotational moulding of LLDPE imported from Samsung corporation in South Korea. And the wall thickness of the plastic parts are above 8mm.
>>Main Colums
All the main columns are made of galvanized steel pipes with diameter of 48mm and wall thickness of 2.2mm. Quality and technical standard meets the requirements of National standard GB/T3091-2001.
>>Platforms
All the platforms are made of ply-wood, sponge and PVC. The quality and technical standard are conforming to the European EN1176 standard.
>>Other Metal Parts
All the metal parts are made of galvanized steel pipes with diameter of 60mm,48mm,38mm,32mm,28mm and wall thickness of 2.2mm. Quality and technical standard meets the requirements of National standard GB/T3091-2001.
>>Fittings
For the indoor playground, we can arrange one technique
>>Ropes and Nets
The ropes and nets are imported high quality sailing ropes with diameter of 12mm & 16mm, containing an internal of high strength galvanized steel wire.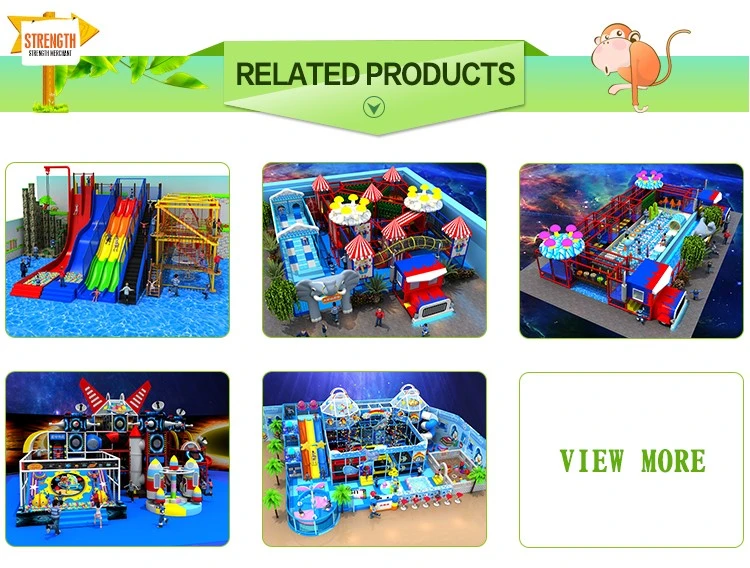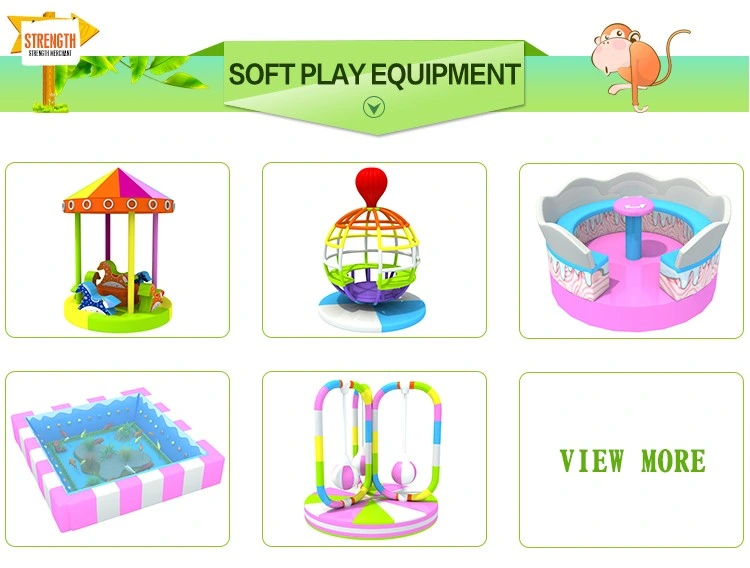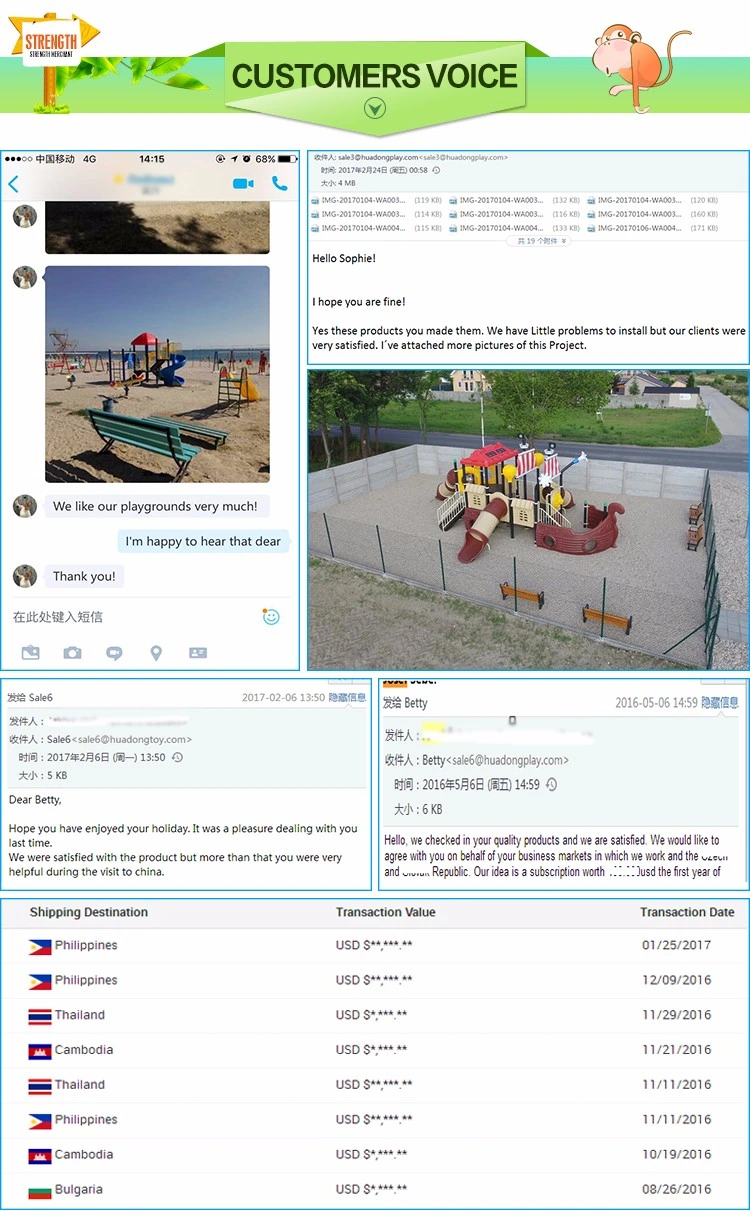 Real Case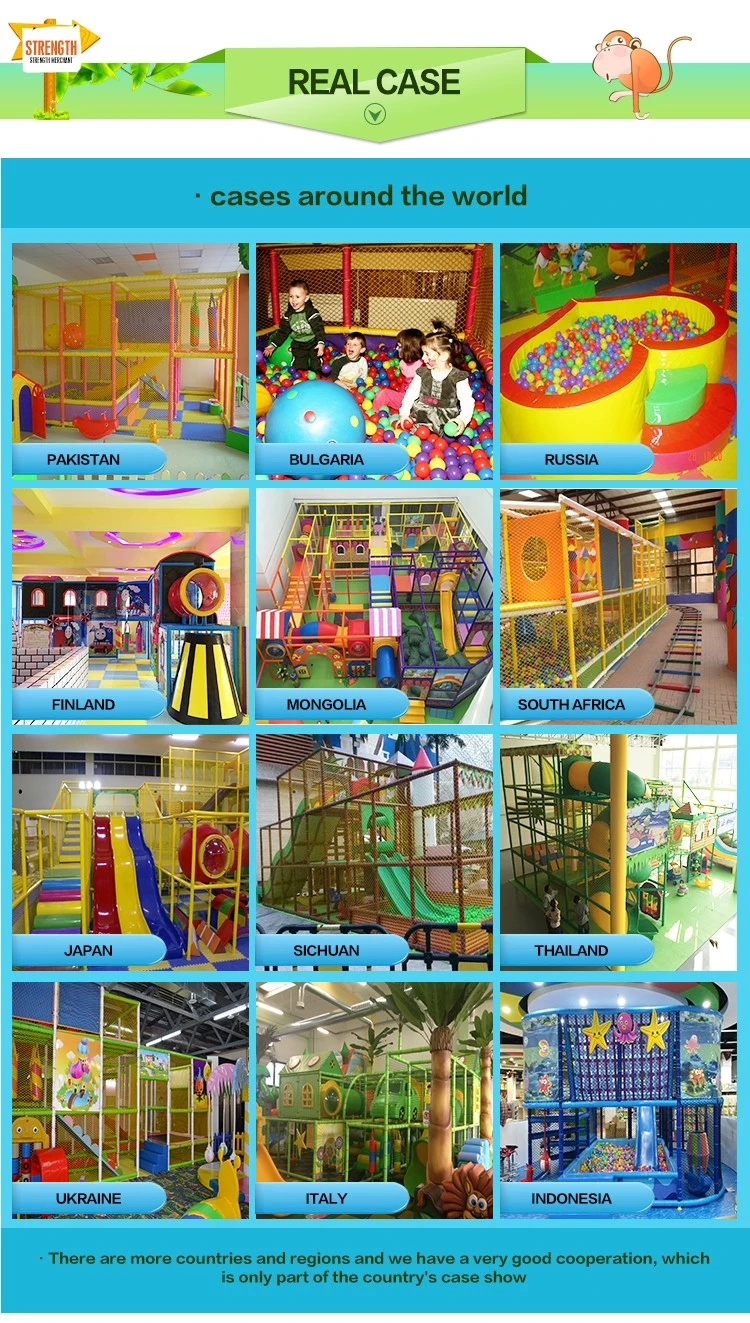 Produce Process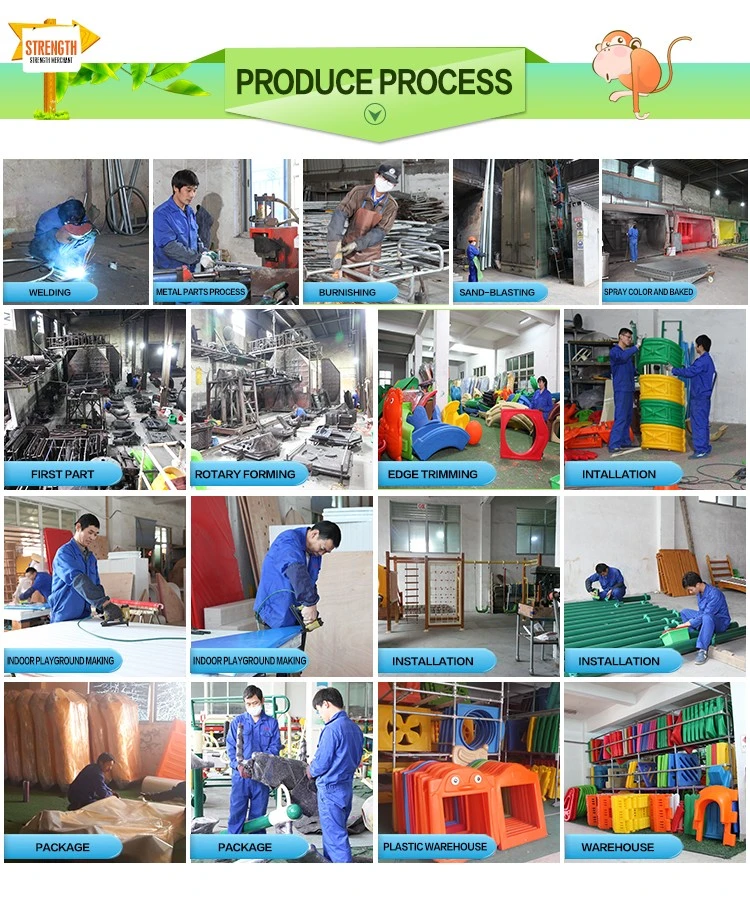 Company Information
Why Choose HUADONG ?
1.Safe
All our designs and products are strictly inspected according to the safety standards to make sure all the parts of the toys will cause no harm to the kids. All the metal parts are smooth and the plastic parts are no-toxic, anti-ultraviolet property, conforming to the standard of FOOD class.
2.Experienced
Our toys are designed by very experienced designers accoding tothe interests and feels of the children. With defferent characters and styles, our products bring to the children not only happiness but also the health and wisdom.
3.High Quality
We have been believing that quality is the soul of the products. We assure that our products will kee in very good condition after long time use or even in the harsh climatic conditions. All the parts will keep high durability between the temperature -50°C~50°C.
4.Competitive
For the same products in same quality and same standard, we will offer you the lowest prices. With the same amount of money, you will enjoy more experienced designs, faster delivery, professional installation instructions and much better services.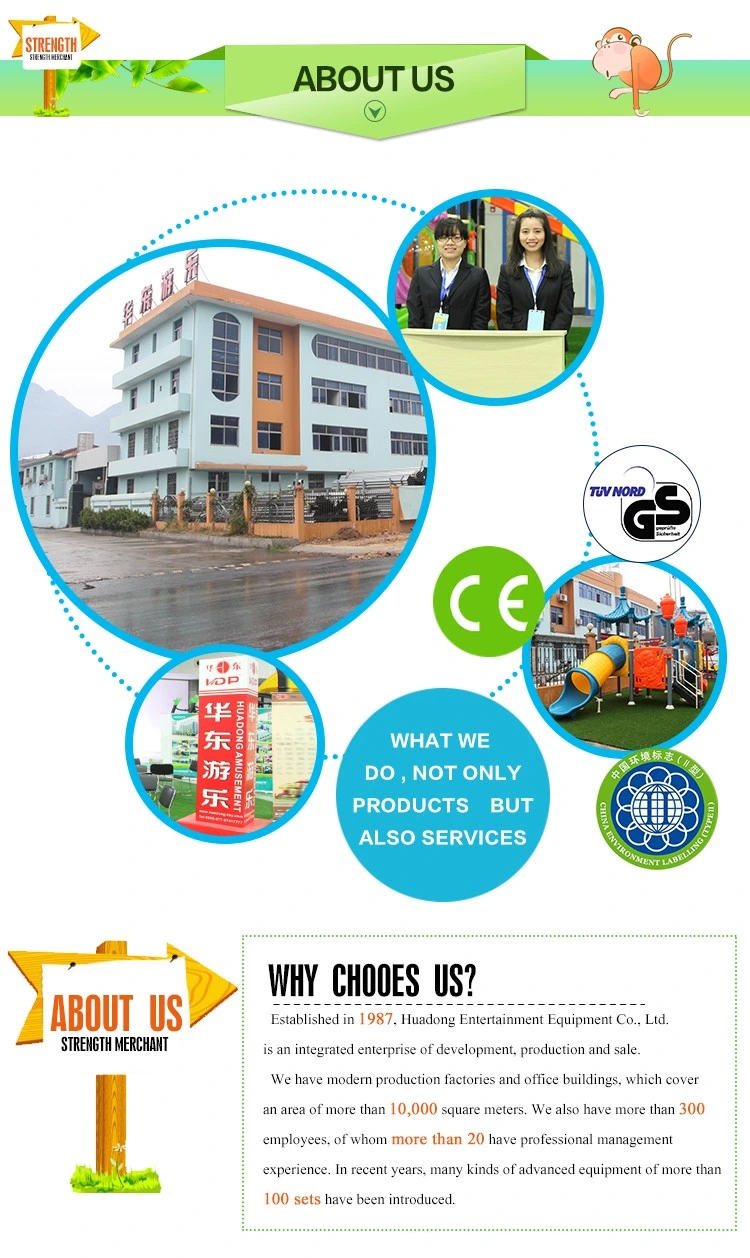 Exhibition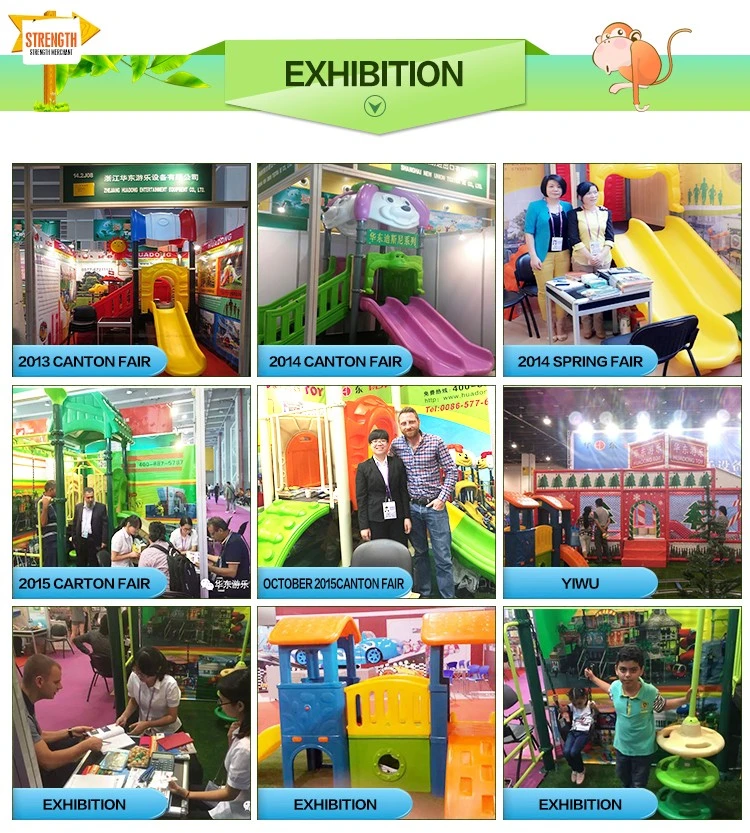 Workshop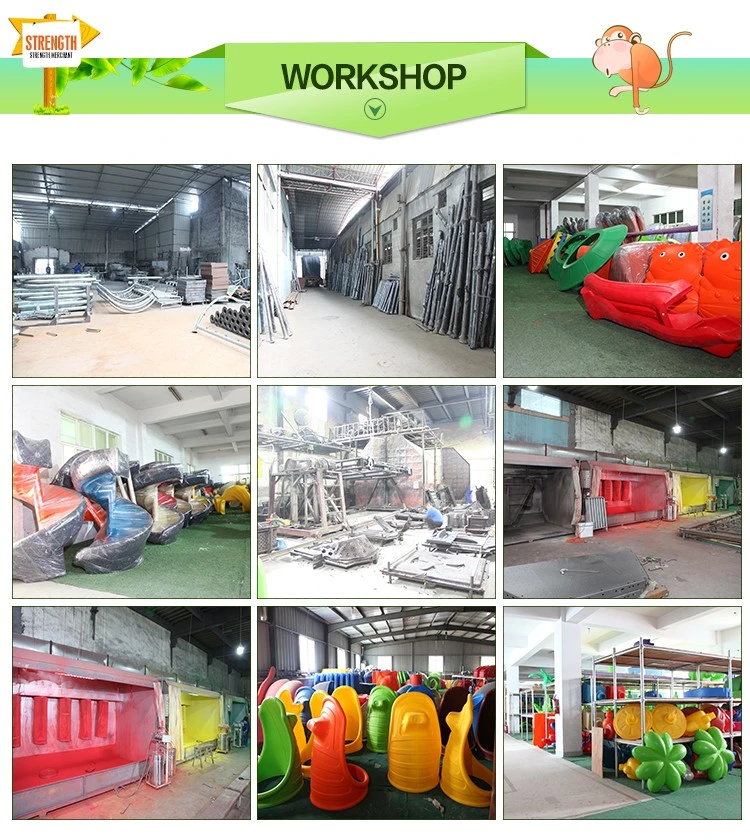 FAQ
Q1: How much will your indoor playground cost ?
A1: As the indoor playground is always custom designed and involves many products and accessories, the price has to be calculated based on the final design.
Q2: How long does it take to get a plan or design ? How about the production time?
A2: It depends on the size of your playground. Take a 100m2 indoor playground as an example, It takes 2-3days to finish an initial design and about 15days for production. If you have a large or complex project, it may take a bit longer.
Q3: How to maintain and clean the indoor playground?
A3: Maintenance: Everyone should take off his shoes when entering the indoor playground; the EVA mat must be avoided to step by shoes with high heels.
Cleaning: Use cleaning rag to clean the surface of the indoor playground periodically.
Contact Us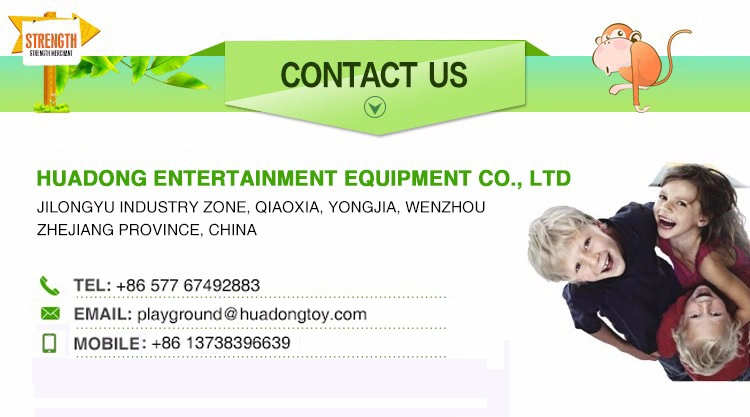 Thank you for your visiting!
You can visit our website to see more products, or directly contact us.
We appreciate your business!
--Huadong